Hardware Lab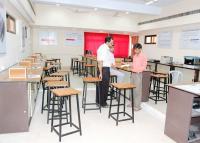 Contact person: Prof. Anupam Shukla Dial: 0751-2449811
Objectives and Activities
Research areas of this laboratory are in: i) Computer architecture; ii) Embedded systems; iii) VLSI (Very large scale integration); iv) Reconfigurable logic; v) Real-time systems; vi) Digital systems design; vii) Micro-processor systems; viii) Rapid systems prototyping; ix) Sensor networks; and x) Microelectronics systems.
This laboratory is designed to educate students of IPG 3rd semester in different areas of computer hardware.
Infrastructure
This laboratory is equipped with computer hardware components such as motherboard, keyboard, mouse, CPU, disk drives, and UPS.
Room C-203 is the location of this laboratory.